Gen Care Services is based at Rowville in South East Melbourne, servicing customers across Australia. We can provide the ideal diesel or gas fuelled power generation and noise attenuation system to meet your requirements. Gen Care Services also provide on-site maintenance and servicing, with peace of mind, Service Level Agreements available.

Gen Care Services provides generators from a standard consist through to custom built packages to a client's particular specification with all work completed in-house to ensure quality and delivery time.
Gen Care Services employ a team of qualified mechanics, sheet metal and heavy steel fabricators along with capabilitIes in plumbing and electrical fields. From the time you engage with us, you will be stepped through the design and construction processto ensure all your needs are met.
Our engineering office provides state of the art, 3D computer modelling along with functional and cost-effective acoustic solutions. GCS are an innovative design, manufacturing and installation company for a wide range of power generation and acoustic products.
We provide experienced acoustic engineers who can design and manufacture structures that effectively reduce noise and at the same time are visually appealing as well as functional.
Customers can be assured that GCS strives for the best outcome on each project and/or product. Our professional team and management staff ensure that the product that leaves our factory is to the satisfaction of our clients.
GCS are dedicated to continually improving standards and construction methods to ensure our products are second to none.
Gen Care Services Pty Ltd was formed in November 2016 with the aim of being able to offer a complete generator (system) service.
Gen Care Services' management and staff have been involved in the generator industry for well over 30 years, mostly with experienced former Caterpillar & Cummins dealer personnel, having direct involvement with Prime and Standby, Diesel and Gas applications.
Gen Care Services, a company dedicated to offering superior customer service, believes that a generator set installation is not just an engine but a complete system, covering fuel systems (diesel & gas), exhaust systems, controls, switchboards, building interfaces, cooling systems, starting systems, etc.
Gen Care Services understand customers and their system's service requirements for Caterpillar, Cummins, FG Wilson and most other brands of generator sets.
Gen Care Services also conducts and monitors engine sump oil samples. This gives a window into the engine's internal condition and assists in determining oil change intervals and engine overhauls with possible extensions of the duration between services.
Gen Care Services aims to provide customers with a total (one-stop-shop) solution.
Gen Care Services has the personnel and equipment to offer these services without having to outsource.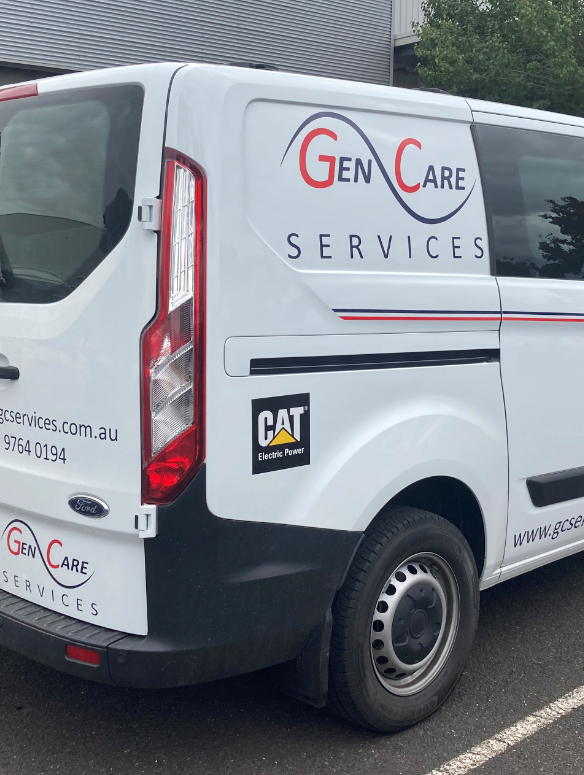 Involved with the power generation industry for over 30 years. A founding board member of the Co-Generation Association
(now the Australian Business Council for Sustainable Energy)
A staff of six Trades personnel are involved in the manufacture of acoustic enclosures, exhaust silencers, remote bulk diesel tanks,
extended genset skid-base tanks and sheet metal fabrication.
Gen Care Services employ twelve Service Technicians plus apprentices with electrical and mechanical skills offering a range of
services from generator system design, construction, upgrades, emergency call-outs and routine maintenance through to
annualservice contracts.
The Gen Care Sales Team have decades of combined experience in the generator industry and can offer our customers the best
generator system advice. They can find solutions to suit demanding project requirements and will suggest any possible
cost-savings.